4 Different Type of Room Status View
Room Status from main screen With Easy Check-In and Check-Out Option
Easy Room Reservation Process
One Click Allow Single and Group Room Booking
Direct Billing/City Ledger/Company Account
Full Network Support on LAN and WAN
Multiple Rate & Rate Type Support in Single Stay
Simple Room Transfer Facility
Single and Multiple Room Booking Facility in One Click
Audit Shift Define 1, 2 or 3 As per Require
Shift Wise Audit, Day Wise Audit, Night Audit Facility
Room Housekeeping Auditing Facility
Configure System Week-Day and Weekend-Day
Configure System as per 12 Houses or 24 Hours Check-Out
Configure System GST and Service Tax %
Daily Recurring Charge As per Require on Room
Hotel Management Software is an Windows base application use by businesses to automate their day-to-day operations such as Room Bookings, Reservations, Check-In or Check-Out, Hotel Reservation Software is developed for suitable works of the following types of accommodation like Hotels, Guesthouses, Cottages, Villas, Cabins etc.
Imagic Application includes all the features required in a Hotel Management Software such as Hotel Reservation, Customer Check-In, Customer Check-Out and provides integrated report for all Customers. Our software is designed to help administrator or operator to track all check in or checkout status with just one mouse click.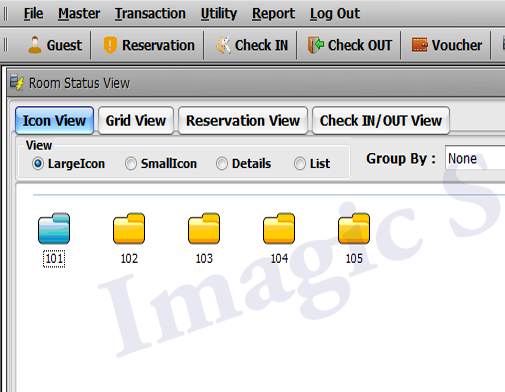 User Management :
One Click Roll User Room Management
No Limit For User and Roll Creation
Create User Administrator, Supervisor, Operator As per Require
Manage Multiple Hotel in Single Software
User Roll Save As With New Name and Create New
User Right Add, Edit, Delete And only View
Rate Type Management :
Season Wise Rate Management Facility Like Holiday Rate Type, Christmas Rate Type, Summer Rate Type and Other Festival Rate etc.
Pricing manage based on Adult and Child
Pricing Manage By Week Day, Weekend Day and Day Used
Manage Commission Agent Rate Type
Extra charge For Person, extra Bad
Auto Apply Daily Recurring Charge like New Paper, Cigar like Extra Facility
Discount on Room, Discount on Group Booking with Authorize Person
Auto Apply Pre Define Rate Week Day and Weekend Day
Tax Inclusive and Exclusive Facility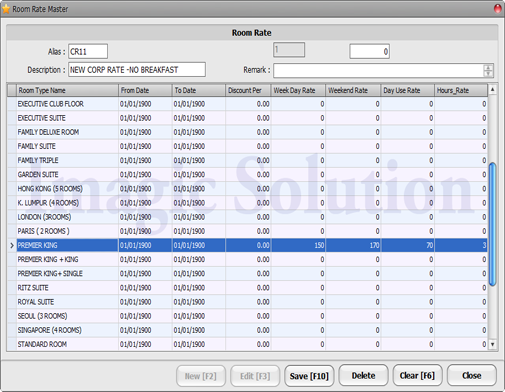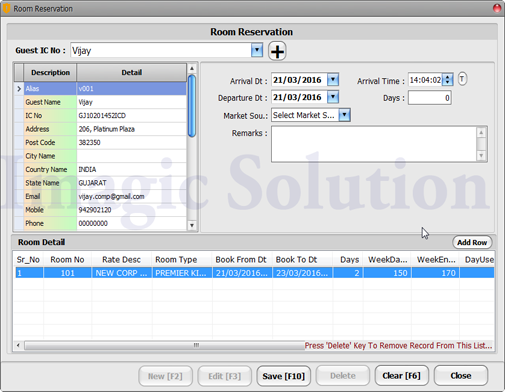 Reservation :
Dashboard is gives 4 Different Type Room Status View Icon View / Grid View / Detail View / Date Wise View
Room Status Display Reserved / Occupied / Available / Block / Dirty
Reservation for Single and Multiple Room Booking
Guest Detail Search Automatically and Fill [if returning Guest]
Guest Entry with Personal and Company Detail Like IC Code, Name, Address, BOD, Marriage Anniversary, Email, Card Detail, Mobile, Passport, Driving, Country Card, Election Card and many More
Credit Limit for Company, Guest, Agent
Guest Search By Any information like Unique Searching
Pre define require Extra Bad, Station Pickup Vehicle
Special Guest Request Note
Reservation confirmation By Email and SMS
Manage Source like Travel Agent and arrange Commission
Collection of Deposit for Room Reservation
Allow with Authentication to Late Arrival, Late Check-In, Late Check-Out
Room Check In :
One Click Room Booking Facility
Selection Of Single and Multi Room in Single Click
On Right Click you can manage Check In, Reservation, Check Out, Change Room Status, Room Charge, Daily charge and many more
Group Check In
Single Room check In
Guest Walk-IN and Company Booking
Room Discount and Room Rate Negotiate with Authorized Person and Authentication
Collect Deposit [Option Pre-set Compulsory/ Non Compulsory]
Void Record with User Authentication [got Audit Reports]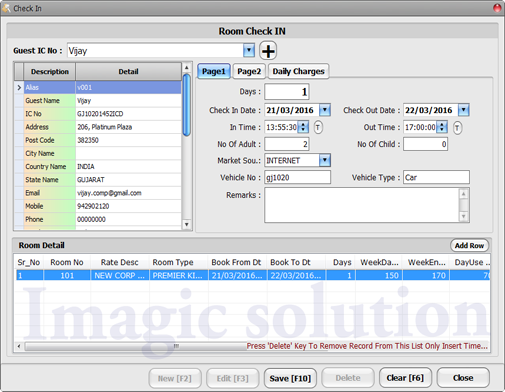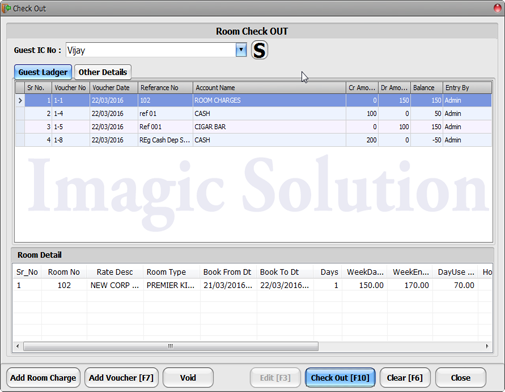 Room Check Out :
Invoice Printing As per Require Format
Option for Late Check-Out With Extra Charges
Room / Guest Wise Remark Reminder on Software Front Screen,
One Click Got Guest Current Leader with Guest Detail
Void Unwanted Charge with Authentication
Single and Group check Out Possible
Payment on Multiple Currency
Many Payment Option Like Cash, Cheque, Card, City Leader, Traveler, Company Bill Etc..
Auto Posting Room Charge Over Night Audit, Manual Posting Facility Available
Printing Receipt, Invoice, Folio, Deposit Receipt
Printing Company/Traveler Monthly Invoice/Folio Bill
Cash Counter Support
Hotel Room Services :
POS Integrate Laundry Service, Food Service, Cigar Service and Many More
Post Service Charge with Guest/Room Wise
Charge Additionally Phone Call, Movie, Internet to Account
Manage Separate Service Account Head and Inclusive/ Exclusive Tax
Void Charge with Authentication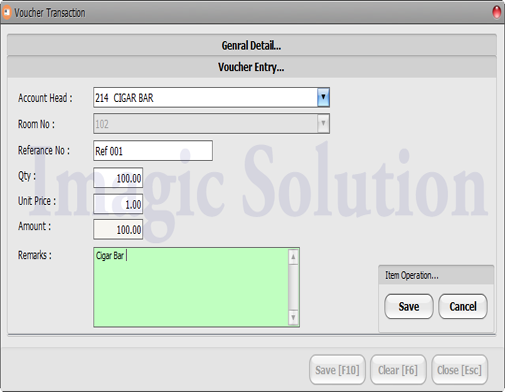 Hotel Accounting Management :
Create Account Groups, Account Sub-Groups and Account
Option For Apply GST Tax, Service Tax Account Wise
Option For Hide Tax or Display Tax Account Wise
Option For Tax Inclusive or Exclusive
Audit Trail Facility [Changes done by Whom and When]
Integrate With Other ERP System
Shift Wise Audit Report
Night Shift Audit Report
Account Ledger Reports
Cost Center Wise Accounting
Housekeeping Management :
No Limited to Create Housekeeper with Detail
Manage Separate Service Charge for Housekeeper
Daily Task List For Housekeeper
Daily Report for Housekeeper to Room wise
Detail Report for Current Status of All Rook like Check-In, Check-Out, Dirty, Occupied, Block etc..
Easy to Remind of Room Status Display With Separate Color Logo and Different Icon
After Room check Out Select Option For Dirty or Vacant
Dirty Room Assign Housekeeper on single Click
Hotel Reports :
Master Reports Like Guest Detail, Account, Group, Sub Group, Room, Room Rate, Room Type, Product, City, Country, Housekeeping etc.
Guest Reservation List Report
Check-In, Check-Out List Report
Shift Wise, Date Wise Shift Report
Day Audit, Night Audit, Shift Audit Report
Cash Counter Report
Daily Summary Report
Last Room Used Summary Report
Traveler Report
Tourism Survey Report [Country Wise List]
Monthly Occupancy Report [Vacant / Occupied Room Wise / Room Type Wise]
Journal List and Journal List Summary
.
Transaction History Report
Room Sold Analysis
This Year Last Comparison
Monthly Account Report
Quarterly Account Report
Credit Card Received Report
Housekeeping Report
Housekeeper Report
Housekeeper Transaction Report